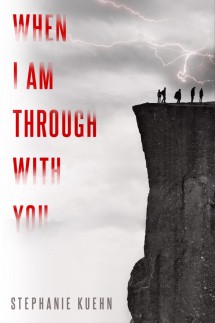 available for preorder
When I Am Through With You
Taut plotting combines with prose that's by turns delicately plush and trenchantly foulmouthed for a riveting experience. Full of secrets and plot twists, Kuehn's latest is a satisfying, sophisticated study in complicated relationships.
Kirkus (starred review)
A tense, masterful thriller that gripped me from the first page.
Kara Thomas (author of The Darkest Corners)
Complex and compelling,
When I Am Through With
You takes a hard look at the dark intensity boiling beneath the surface of an everyday teenage boy.
Edgar-Award Winning author Mindy McGinnis
"This isn't meant to be a confession. Not in any spiritual sense of the word. Yes, I'm in jail at the moment. I imagine I'll be here for a long time, considering. But I'm not writing this down for absolution and I'm not seeking forgiveness, not even from myself. Because I'm not sorry for what I did to Rose. I'm just not. Not for any of it."
Ben Gibson is many things, but he's not sorry and he's not a liar. He will tell you exactly about what happened on what started as a simple school camping trip in the mountains. About who lived and who died. About who killed and who had the best of intentions. But he's going to tell you in his own time. Because after what happened on that mountain, time is the one thing he has plenty of.
When I Am Through With You is a gripping story of survival and the razor's-edge difference between perfect cruelty and perfect love.