It's been an int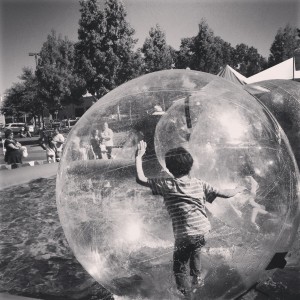 ense couple of months of late, filled mostly with the sort of work that has me sitting at my desk with my head down and my noise canceling headphones on, functionally blocked off from the rest of the world. But interspersed with long bouts of dissertation writing, blue-pencil copyediting, and even a bit of writing-writing, I've been fortunate enough to attend a number of great book events. From the fabulous KidLitCon in Sacramento, to the Vegas Valley Book Festival and the Boston Book Festival, I've had the opportunity to reconnect with old friends and to meet many kind and passionate writers, bloggers, librarians, and readers. It's been wonderful.
It's been unforgettable.
There have also been milestones and moments of joy at home. Two of my children had birthdays recently, including my eldest, who is now a teenager and who makes me laugh. My youngest child is in the midst of learning to read, which is always an amazing thing to witness. Like learning to walk and talk, it's one of the few maturation processes that can be observed tangibly.
In bookish news, I am featured on a recent episode of FirstDraftPod, which is a smart, fabulous podcast put together by my dear friend Sarah Enni. She has been driving around the country interviewing authors in their homes about their writing process. In my case, we actually met up at my in-laws home in Vermont this past summer. I was also really happy and honored to find out yesterday that COMPLICIT made the 2015 Texas Library Association's TAYSHAS teen reading list.
Speaking of Texas, that is where I am headed this weekend. I will be in Austin for the YALSA YA Lit Symposium, which I am so looking forward to. Austin's a wonderful city, and the programming at the symposium looks incredible. I'm on a panel Saturday morning (details below) with an amazing group of authors whom I really admire. It should be a great discussion. Hope to see you there!
Saturday November 15, 2014

Beyond the Books: Using Realistic YA Lit as a Springboard to Improved Teen Services
Presenters: Robin Fogle Kurz and Allie Stevens Participating authors: Evan Roskos, Stephanie Kuehn, Kekla Magoon, Meg Medina, Melissa Kantor.
10:30 am – 12:00 pm
Hyatt Regency Austin
Texas 11 and 111, 2nd floor
Austin, TX
-sk