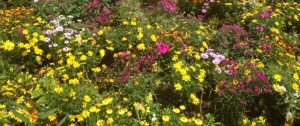 Spring has snuck up on me in a way I'm unaccustomed to. Our spring is usually slow and methodical; First come the magnolia blossoms, followed by the lilacs, then the jasmine. But we had a late rain after a warm, dry winter, and nature is as confused as I am. Suddenly everything is in bloom, all at once. It is bright, and it is beautiful.
Other things are sneaking up on me, too. COMPLICIT is coming out in less than three months. I am very excited to share this book with the world, and I am beyond thrilled that the first two trade reviews have both been stars!
"Kuehn writes with the fleetness of a trained thriller author, blending past and present (not to mention psychology and action) with the same fluidity as in her Morris Award–winning debut CHARM & STRANGE. Her confidence is what's so invigorating: every page makes a firm, surprising choice, whether you like it or not." —Booklist (starred review)

"Kuehn's second novel, after her Morris Award–winning Charm & Strange, powerfully examines how mental illness can turn into family tragedy that ripples far and wide beyond a single event. The prose is as hallucinatory as the madness Jamie seeks to uncover in a novel that's tense and ambiguous from start to finish."  —Publishers Weekly(starred review)

I am also going to be attending a few upcoming events that should be a lot of fun, including the L.A. Times Festival of Books, which is this weekend. On Saturday, I will be on a panel discussing YA thrillers, and on Sunday, I will be moderating a panel that will be discussing the experience of being an outsider. I hope to see you there!
Festival schedule:
Saturday, April 12, 2014, YA Stage, 4:30 pm
Adrenaline Rush with Stephanie Kuehn, Abby McDonald, Lauren Oliver, and Sarah Skilton; moderated by Aaron Hartzler
Sunday, April 13, 2014, Norris Theater, 1:30 pm
YA Fiction: Outside Looking In with Carrie Arcos, Deb Caletti, Anna Shinoda, Ann Redisch Stampler; moderated by Stephanie Kuehn
Two other events are happening in May and June at the fabulous Mrs. Dalloway's Books in Berkeley. First, I'll be joining debut author Brandy Colbert on May 31st at 7:30 pm to discuss her beautiful novel POINTE. And on June 26 is the launch party for COMPLICIT, which will also be at 7:30 pm. More details on both of these events to come soon!
Happy spring!
-sk