Last night I got home and found this waiting for me on my doorstep:
Surreal doesn't begin to describe the feeling of holding this galley in my hands, of seeing a Word file that's moved from My Documents to the multidimensional.  It's almost like a real book, I keep telling myself.
And soon it will be a real book. Very soon. My mind just has to catch up with reality.
In sadder news, our sweet rat Butter is dying. She's very old, but I think she's had a stroke. The kids have been holding her and playing music for her while they say goodbye.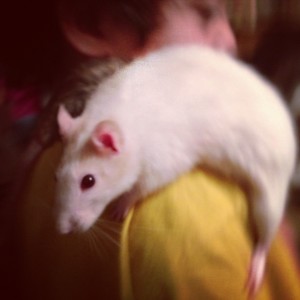 Thank you for being such a dear friend, Butter. You will be missed.